Penny Couchie's newest work, When Will You Rage?, is a 70-minute dance theatre piece featuring four female performers premiering March 9, 2013 at the Capitol Centre in North Bay, ON.
Intent
Largely based on the stories of Couchie's great-grandmother, grandmother, mother and other female relatives, this work is an exploration of the history of personal, family, and community trauma and the passing of trauma from generation to generation. When Will You Rage? is about honouring those who have come before, recognizing and celebrating their strength and resilience.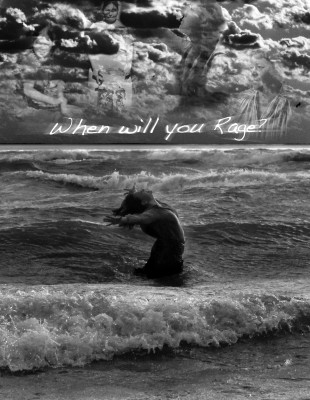 When Will You Rage? is about refusing to remain silent; moving past the fear of resistance to reclaim sovereignty. It is about allowing one's self to rage with all the beauty, power, and creativity of which they are capable.
When Will You Rage? brings forward the stories of those who, in the face of tragedy, fought with all the courage, tenacity, and love they had to rescue their children and ultimately their future.
Couchie's mother tells a story of a healing conference she attended years ago. There was a small boy playing under her group table during one of the presentations. The speaker was talking about the impact of the genocide perpetrated against Indigenous Peoples in the Americas and the trauma that they continue to carry to this day. The room was a sea of tear-stained faces. The little boy came out from under the table and asked, "Why is everyone crying?" Couchie's mother explained that they were all crying because of what that woman was saying. After a moment of thinking about her answer the boy asked, "Why are you listening to her?"
This willingness to listen, to understand and to see, is what has driven Couchie in this creative work. In spite of the immense grief and rage, people continue to listen, to feel, and to talk about the past. Like all the men and women at that healing conference, we know that the only way to get through it is through it. And so with dogged strength, courage, and tenacity we grieve and rage for the love of our families, our communities, the world, and ourselves.
Phases of Development: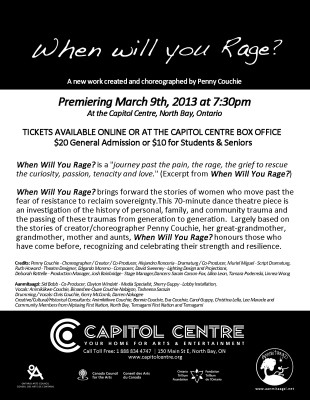 Developed from interviews, video, recorded texts, photos and movement exploration, an excerpt of When Will You Rage? was first workshopped in 2000 by the Aboriginal Dance Project at The Banff Centre in Alberta. Earth in Motion produced additional excerpts at the Aboriginal Choreographer's Workshops in 2002, 2007 and 2008 at the Winchester Street Theatre in Toronto, Ontario.
In 2009 the first workshop production was presented in partnership with Native Earth Performing Arts at the Winchester Street Theatre in Toronto, Ontario.  In December 2010, a full-length workshop production was presented at Dancemakers Centre for Creation with dancers April Doxtator, Lilia Leon, Tamara Podemski and Linnea Wong. It was dramaturged by Alejandro Ronceria with original musical composition by Edgardo Moreno, design by Ruth Howard, and lighting by David Sweeney.
In the most recent workshop production, Couchie created five new sections for a total of one hour of new choreography. In addition, over 40 minutes of new music was created for this piece, and new costumes and lighting were developed. Ruth Howard generously donated human resources from Jumblies Theatre to aid in the development of slides, video and set design for the final production. This production was performed in front of a full house at Dancemakers Centre for Creation on December 11, 2010. There was a reception with an installation by Sherry Guppy (of Aanmitaagzi) following the performance, and the audience and artist feedback was extremely positive.
Artistic Process
Couchie's artistic process has evolved in response to the different stages and developments of this piece over the past ten years. Much of this evolution has been driven by inspiration:
Whether the inspiration comes from a family story I've been told, from a conversation I've had with someone regarding the nature of colonization/decolonization, workshops that I have attended on historical trauma and the inter-generational effects of it, Indigenous knowledge that has been passed on through ceremony or even dreams that I've had, I've responded to these inspirations through movement and dance, writing and rough drawings and then looked at what had been created and asked the question 'what is it?' The people I interviewed included my mother, aunts, uncles and a some of the elders from Bear Island First Nation who knew my Grandmother and Great-Grandmother. The research from these interviews was used to augment existing scenes and to inspire new ones. (Penny Couchie)
Credits:
Penny Couchie – Choreographer / Creator / Co-Producer
Alejandro Ronceria – Dramaturg / Co-Producer
Muriel Miguel – Script Dramaturg
Ruth Howard – Theatre Designer
Edgardo Moreno – Composer
David Sweeney – Lighting Design and Projections
Deborah Rattelle – Production Manager
Josh Bainbridge – Stage Manager
Dancers:
Sarain Carson-Fox
Lillea Leon
Tamara Podemski
Linnea Wong
Aanmitaagzi:
Sid Bobb – Co-Producer
Clayton Windatt – Media Specialist
Sherry Guppy – Lobby Installation
Vocals:
Animikiikwe Couchie
Binaeshee-Quae Couchie-Nabigon
Tasheena Sarazin
Drumming / Vocals:
Chris Couchie
Gerry McComb
Darren Nakogee
Creative/Cultural/Historical Consultants:
Animikiikwe Couchie
Bonnie Couchie
Eva Couchie
Carol Guppy
Christina Lella
Lee Maracle
And a special thanks to community members from Nipissing First Nation, North Bay, Temagami First Nation and Temagami