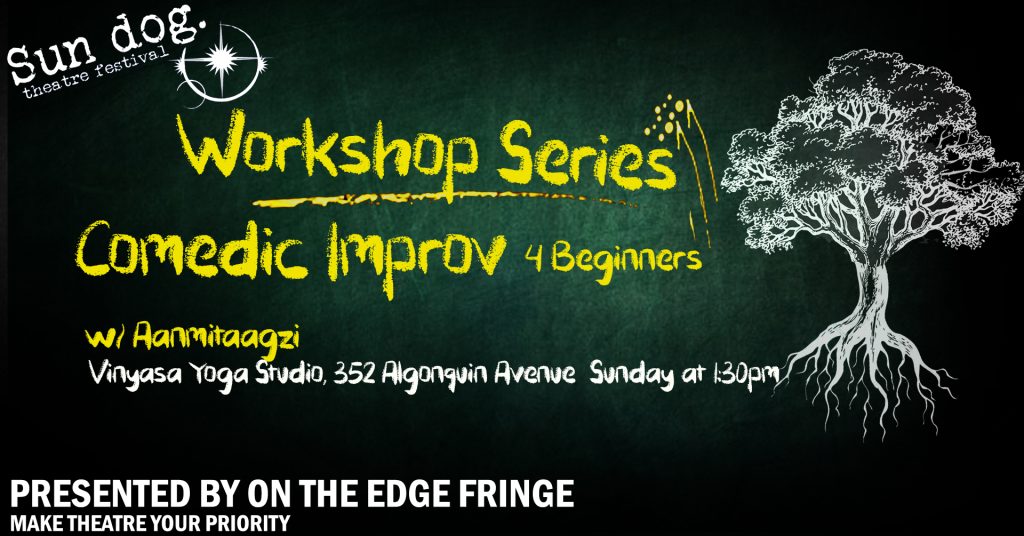 Aanmitaagzi is happy to be working with ON THE EDGE Fringe to present a Comedic Improv workshop for the Sun Dog Theatre Festival on April 2nd at Vinyasa Yoga Studio. Full details of the workshop can be found below. For more information about the Sun Dog Theatre Festival, please visit their website.
Comedic Improv for Beginners with Aanmitaagzi
Time: Sunday, April 2, 2023 from 1:30 – 3:30 PM
Location: Vinyasa Yoga Studio – 352 Algonquin Avenue
Admission: Pay-What-You-Can
Max. Participants: 20
Comedic improv is a great way to release your inner storyteller and have some fun! It teaches you how to think on your feet and work collaboratively while honing your listening skills and group awareness. In this workshop, participants will engage in improv ice breakers and warm-ups and will then be led through a series of introductory improv exercises and games. Principles of play, spontaneity, and listening, as well as making and accepting offers will also be explored.
Revisiting imaginative play can be intimidating but participants will have the opportunity to take risks in a nurturing environment. We will examine the basic elements of improv: the performer / improviser, their environment, their scene partners, the story / plot, and the audience. Participants will learn how to tell a story focusing on creating and establishing their environments and characters, developing conflict, and finding resolutions.
This workshop is intended for beginners of all ages and abilities or as a chance to revisit the fundamentals.
To register for this workshop, please contact Tara Windatt at info@ontheedgefringe.com.