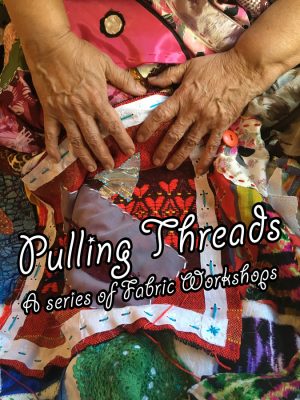 Aanmitaagzi with Spider Woman Theatre presents: Pulling Threads, A series of Fabric Workshops as part of Material Witness.
Material Witness is a play that explores violence, healing and renewal in the lives of Indigenous women. The set is a "story-quilt", a layered landscape of fabrics, of heaps, piles and bundles that holds stories and supports the stories of the women on stage. Each person in the workshop will build a layered piece of the "story-quilt" – her story will be the essence of the piece that she creates. This piece will be sewn/woven into the larger quilt and will travel with the production wherever it goes.
We provide the fabric and the accessories.
Please bring your own fabric if you wish to donate a personal piece.
Come and enjoy some food, some talk and some laughter!
Tuesday April 19, 7-10 pm
Big Medicine Studio
Thursday April 21, 7-10 pm
Big Medicine Studio
Friday April 22, 10-4 pm Fabric Workshop
Temagami (Venue TBA)
Print out this Invitation Fabric Workshop flyer and put it up in your space. 🙂