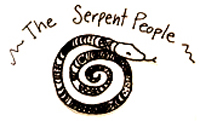 Ice Follies 2016
Serpent People
This year, Aanmitaagzi's project, Serpent People, will engage with Ice Follies. Serpent People is a unique multi year community engaged project.  Artists of Aanmitaagzi and community have been researching, developing and creating art in and around historic Indigenous serpent stories and figures. Aanmitaagzi will be presenting works from Serpent People and holding Open Studio workshops throughout the festival.
This is the first year of this multi-platform project. Over three years the project will include partnerships / collaborations, community-engaged workshops, intensives and site-specificart events. These workshops and events will culminate in a full-scale community engaged dance theatre production in 2018.
Serpent People is inspired by an historic Anishinaabe story, The Black Sturgeon, from this area shared by Aanmitaagzi artist, Perry Mcleod-Shabogeesic. Like many of our stories, this project provides an opportunity to gather, reflect and express our stories and imaginings through art-making. During the festival Aanmitaagzi will present works from Serpent People:
A performance at the festival opening
Installations
Open Studio: Community-engaged workshops @ Big Medicine Studio
Story Telling Event
Open Studio Workshops at Big Medicine Studio
February 1st – 4th (Monday – Thursday) & 8th – 12th,  from 6-8:30pm
Please note both Wednesday's will be Big Drum nights. These open studio workshops invite community to join Aanmitaagzi in the creation of installations, giant puppets and performance. All welcome.
Wednesday Nights, from 6:30-8:30pm
Each Week,  POW WOW JAM (all ages and abilities) w/ Tasheena Sarazin & Darren Nakogee
Pathways: Taking place at White Water Gallery 122 Main St E.
Pathways, an installation by Cristina Lella, engages with Aanmitaagzi, Serpent People and community, exploring relationship to local routes and pathways. These open workshops will continue until the festival opening.
Performance: February 13th @ 6pm,
During the Ice Follies Festival Opening, (5:30-7:30pm) at the Waterfront Marina, Memorial Drive, Components from weekly community engaged workshops lead by Aanmitaagzi artists will feed into the performance. In a collaborative creation process, Aanmitaagzi artists and community will perform these works together. Serpent / Black Sturgeon Puppets. Aanmitaagzi will be creating two giant puppets. Installation will also be created in collaboration with Aanmitaagzi artists and community.
Aanmitaagzi Artists
Penny Couchie / Co-AD– Choreography, direction, performer and installation.
Sid Bobb / Co-AD – Story-telling, direction, performer and installation.
Eva Couchie – Guest Artist, installation.
Cristina Lella – Installation, performer.
Meg Paulin – Installation, and performer.
Darren Nakogee – Singier, performer, and installation.
Tasheena Sarazin – Singer / Performer
Clayton Windatt – Multi-media, performer and installation.
Please follow and like us: