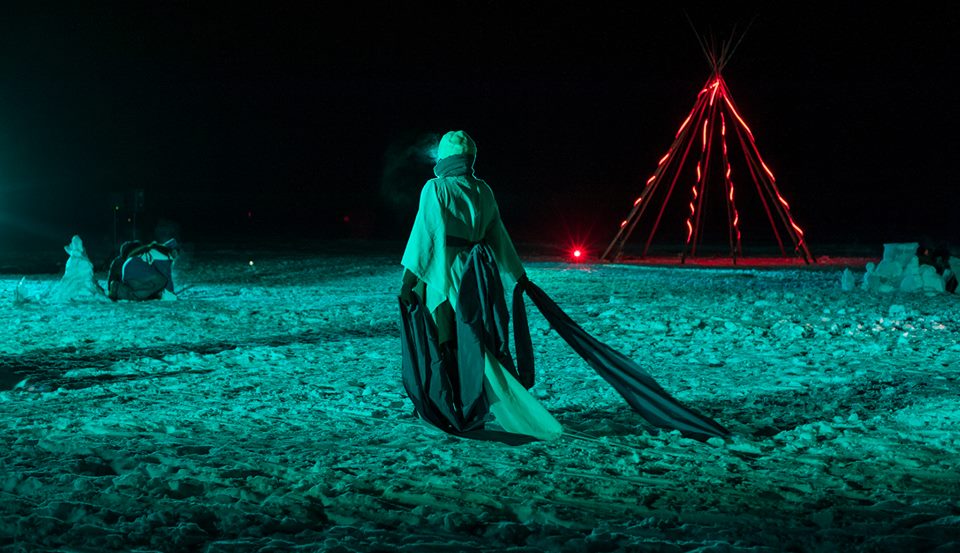 Ojichaagobiishin: It reflects in water
February 13 –  27, 2016
Ice Follies 2016 is the sixth biennial festival of site-specific artwork on frozen Lake Nipissing. The theme for this year's festival is "Ojichaagobiishin" which means "It reflects in Water"; a call to action for other groups to engage the festival by responding to water as the source of all life on earth. With the imminent threat of land development and pipelines looming over Canada, both Aboriginal Territories and Municipalities turn their attention towards "Life". Without the fresh water sources such as Nipissing nothing can survive. "Ojichaagobiishin" forces us to reflect on water and look at what we see. Looking in water reflects our own image back forcing us to look at ourselves. In order for the world we live in to change towards a safer, healthier place, we have to change ourselves.
For Ice Follies 2016, we presented work from our multi-year Serpent People project. Our activities included:
A performance at the festival opening
Installations
Open studio/community-engaged workshops @ Big Medicine Studio
Story Telling Event
The participating artists included: Penny Couchie, Sid Bobb, Eva Couchie, Cristina Lella, Meg Paulin, Darren Nakogee, Tasheena Sarazin, and Clayton Windatt.
You can find out more about the activities that we conducted here.