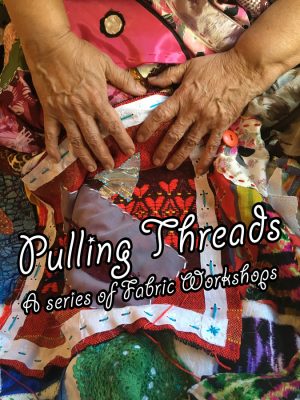 Aanmitaagzi and Spiderwoman Theater are excited to present a new series of Pulling Threads Fabric Workshops as part of their ongoing Material Witness project.
Material Witness explores violence, healing and renewal in the lives of Indigenous women through the development of a multi-generational performance. The backdrop and set for the performance is comprised of a "story-quilt", a layered landscape of fabrics, heaps, piles and bundles that holds its own collected stories and supports the stories of the women on stage.
Through the Pulling Threads workshops, community participants are invited to come in and create a piece of the "story-quilt" based upon their own experiences, exploring not only the stories of violence that have shaped their lives, but also the hope and transformative possibilities that arise from them. The created pieces will then be sewn or woven into the larger quilt and will travel with the production wherever it goes.
Participants of all ages and experience levels are welcome, and counsellors will be on hand to offer support as needed. All materials will be provided, however participants may bring in their own materials to donate to the project as well.
Come and enjoy some food, some talk, and some laughter while pulling threads with us!
Workshop Dates:
April 10, 2017 True Self – Debwewendizwin Employment and Training
10 am – 4 pm 239 Main Street East
North Bay ON P1B 1B2
www.trueself.ca
April 21, 2017 Minwaashin Lodge – The Aboriginal Women's Support Centre
10 am – 4 pm 1155 Lola Street
Ottawa, ON K1K 4C1
www.minlodge.com
April 27, 2017 N'Swakamok Native Friendship Centre
1 pm – 5 pm 110 Elm Street
Sudbury, ON P3C 1T5
www.nfcsudbury.org
April 28, 2017 Debajehmujig Storytellers
10 am – 4 pm 43 Queen Street
Manitowaning, ON P0P 1N0
www.debaj.ca
April 29, 2017 Nimkii Naabkwagan – Batchewana Family Crisis Shelter
10am – 4 pm 180 Gran Street
Sault Ste. Marie, ON P6A 5K9
May 1 & 2, 2017 Pic River First Nation Community Centre
6 pm – 9 pm 78 Pic River Rd.
Heron Bay, ON P0T 1R0
For more information, please contact Penny Couchie – (705) 474-2227.
Please follow and like us: