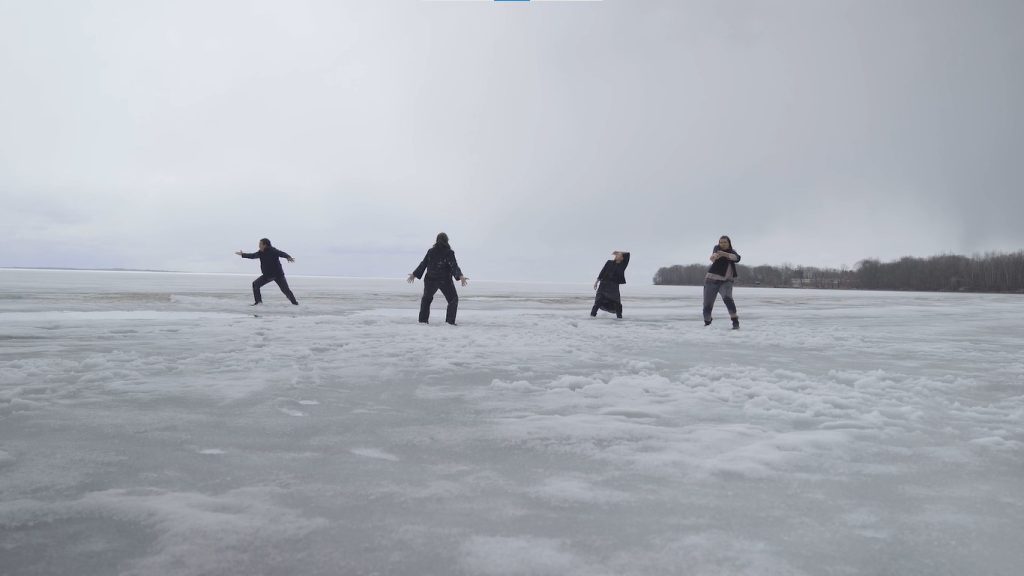 Still from Love Fights, a short film by Penny Couchie & Aanmitaagzi
May 18 – 21, 2022
8pm @ The Citadel
Livestream May 21, 2022
Commissioned as part of The Miserere Project to celebrate the 41st anniversary of David Earle's dance masterpiece Miserere, Love fights is a conversation with an artist ensemble, a collaborative investigation through movement and words. Guided by Choreographer/Director, Penny Couchie, it is a community of voices coming forward. Through improvised, ensemble movement, and written work, the consideration of community is anchored in self, ebbing back and forth between creation, family, and nation.
This work looks at times in our lives, when we experience fracture within ourselves, our families and our communities. In times when we feel lost or alone, what are we connected to? What brings us back to ourselves? In our ceremonies, when we are in a place of hurt, we begin by looking at ourselves, family, community, nation and then all of creation. This ripple outwards, in turn, spirals back to self. It is a conversation about finding our way back from that which divides us from ourselves, each other and all of creation.
Sincere gratitude to Danielle Baskerville for this opportunity to honour David Earle's work and legacy and respond to what has moved me so deeply. This piece is created in loving memory of Lee Maracle and Carol Guppy.
– Penny Couchie, Choreographer/Director
Love Fights and the other works commissioned for The Miserere Project will be on view at The Citadel from May 18 – 21, 2022. Tickets for in-person and Livestream viewing can be purchased on their website here.
Production Credits:
Choreographer/Director: Penny Couchie
Written and Performed by: Sid Bobb, Animikiikwe Couchie-Waukey, Penny Couchie, Christine Friday, and Michaela Washburn
Co-produced by Aanmitaagzi in collaboration with RFPMEDIA.
Camera Operators: Bernardo d'Ávila, Kevin Love, and Richard Fortin
Video Editor: Kevin Love
Video Production: RFPMEDIA INC.
Production Coordinator: Richard Fortin
Audio Recording and Post Production: Suite 16 Studio, North Bay, Ontario
Music: "Miserere" by Gregoria Allegri performed by Ars Nova Copenhagen
Approximate run time: 12 min 15 sec
Please follow and like us: