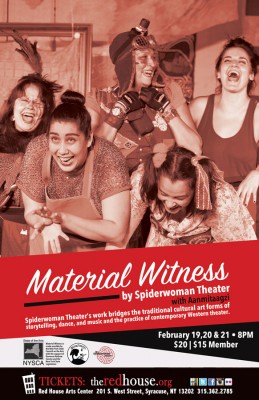 FOR IMMEDIATE RELEASE:
MATERIAL WITNESS AT RED HOUSE ARTS CENTER
Red House Arts Center is proud to host Spiderwoman Theater as part of its 2015 Artists in Residence Series. The company will be housed at Redhouse for two weeks in which they will further develop and perform their latest show, Material Witness. Performances will take place in the theatre on February 19, 20, and 21.
Material Witness is centered on personal and family stories of violence and the healing journeys of Indigenous women. The piece will explore violence and focus on stories of healing. It is a story of positivity, hope and humor, of Indigenous women who have personally experienced inconceivable violence and who are now on the other side, moving forward. The name Material Witness evokes the legacy of our histories, how they intersect and how our societies that have been ripped apart, are being woven together again.
Spiderwoman Theater's work bridges traditional cultural practice and contemporary Western theater. This has given rise to a recognized Indigenous performance practice recognized around the world. The company offers exceptional theatre performance and training which address cultural, social and political issues of concern to the Indigenous and women's communities. Spiderwoman Theater has pioneered the use of storyweaving, which encompasses story and text, language, dance, movement, music, sound and image Through storyweaving, where the elements are layered and woven together, the narrative for our productions and a training and performance framework for Indigenous actors, dancers and singers is created.
Among the founding members of the company are Kuna/Rappahannock sisters: Lisa Mayo, Gloria Miguel, and Muriel Miguel. The group has received honorary Doctorates of Fine Arts from Miami University in Oxford, Ohio for their life's work in theater, have received a Lifetime Achievement Award from the Women's Caucus for Art and have been awarded an Otto René Castillo Award for Political Theatre.
Material Witness is a collaboration with Aanmitaagzi, a professional multi-disciplinary arts company from Nipissing First Nation, Ontario. Aanmitaagzi provides educational, land based, and community focused arts activities. They have been investigating and practicing contemporary arts and its relationship to historic indigenous arts and worldview. They carry forward the legacy of intergenerational art-making which engages professional artists and community. Aanmitaagzi produces arts festivals, theatre productions, and projects which carry forward these historic practices in meaningful ways.
Material Witness will be directed by director, choreographer, actor and playwright Muriel Miguel (Kuna/ Rappahannock). Members of the acting ensemble include actor and writer, Cherish Violet Blood (Blackfoot); actor, dancer and Artistic Director of Leaf Arrow Native American Storytellers, Donna Couteau (Sac and Fox); actor and playwright, Gloria Miguel; Tanis Parenteau (Métis/ Cree) a film, theatre, television and voiceover actor; choreographer and dancer/theatre artist, and Co-Artistic Director of Aanmitaagzi, Penny Couchie (Anishinaabe), and performer, playwright, and theatre creator, Angela Loft (Mohawk).
Also in residence will be scenographer, Karmenlara Ely, the Artistic Director of Acting at the Norwegian Theater Academy in Fredrikstad, Norway; Scenic Designer, Soni Moreno (Maya/Apache/Yacqui); Co-Artistic Director of Aanmitaagzi and assistant director, Sid Bobb (Sto:lo).
About Red House Arts Center: Red House Arts Center is a nonprofit, multi-arts organization dedicated to the production and presentation of interdisciplinary works, new theatre, music, visual art, and is a regional provider of community based arts education. Red House supports the creative process by providing a unique platform for regional, national and international artistic expressions. Through our public programs and community engagement initiatives, Red House aims to stimulate cultural activities and contribute to community development throughout Central New York.
For more information visit www.theredhouse.org.
Please follow and like us: