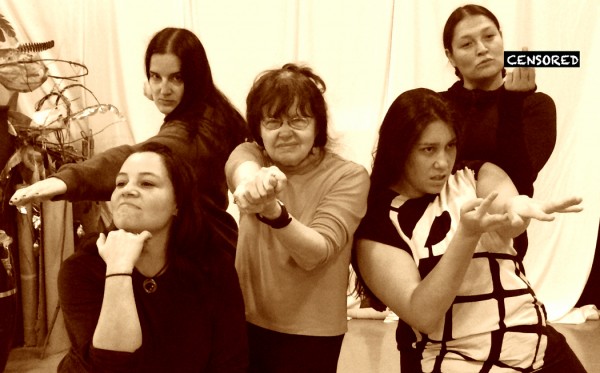 Aanmitaagzi is very excited to be hosting Spiderwoman Theatre in Nipissing once again. On Monday, November 10th at 7pm, we hope you can join us for a workshop presentation of, Material Witness.
Material Witness, formerly Women in Violence II, brings together stories surrounding violence and Indigenous women, from the show's performers and the workshop participants from North Bay and New York.
This project is a re-investigation of Spiderwoman Theatre's inaugural performance, Women in Violence, nearly forty years ago. Women in Violence, touring both the U.S. and Europe, was a groundbreaking piece from one of Indigenous country's most prolific company's.
Please join us for our workshop showing, and talk-back session followed by a reception with refreshments. For more information please call Sid Bobb at 705-474-2227.

Muriel Miguel
(Kuna/Rappahannock) is a founding member and Artistic Director of Spiderwoman Theater, the longest running Native American women's theater company in North America.   Muriel studied modern dance with Alwin Nickolai, Erick Hawkins and Jean Erdman. She was an original member of Joseph Chaikin's Open Theater where she performed in the groundbreaking works:  Terminal, The Serpent, Mere Ubu and Viet Rock.
She choreographed Throw Away Kids and She Knew She Was She at the Banff Centre for the Arts. She directed More than Feathers and Beads with Murielle Borst;  The Scrubbing Project with Turtle Gals Performance Ensemble in Toronto and Evening in Paris with Raven Spirit Dance Company in Vancouver. As an actor, she was the Mary Deity in the off-Broadway hit, Taylor Mac's Lily's Revenge. She created the role of Philomena Moosetail in The Rez Sisters, Aunt Shadie in The Unnatural and Accidental Women by Marie Clements and Spirit Woman in BONES: An Aboriginal Dance Opera. She has created one woman shows Hot' N' Soft I and II, Trail of the Otter and most recently Red Mother, which she performed in Montreal this June at the NYU Hemispheric Institute's Encuentro
Muriel was an Assistant Professor of Drama at Bard College. She teaches and directs a yearly production at the Centre for Indigenous Theatre (CIT) which is created using Spiderwoman's storyweaving methodology. She is also Program Director for CIT's three week summer intensive. She was a Program Director for the Aboriginal Dance Program at The Banff Centre and an instructor there for seven years. In 2013, Muriel facilitated a three week workshop with first year acting students at The Norwegian Theatre Academy in Fredrikstad, Norway.
Muriel has been awarded an honorary Doctorate in Fine Arts from Miami University in Oxford, OH and has been profiled in the book American Women Stage Directors of the 20th Century. In 2013, Spiderwoman Theater received the prestigious Otto René Castillo Award for Political Theatre in New York City. Muriel sits on the American Indian Community House's Board of Directors.
Her plays Trail of the Otter and Hot 'n' Soft, have been published by Playwrights Canada Press in Toronto. She is currently at work on Spiderwoman Theater's latest project, Violence-The Next Generation.
Deborah Ratelle-Project Manager
Deborah is the Managing Director of Two Spirit Productions and Management Consultant with Spiderwoman Theater in New York City. She has worked as a production manager and stage manager for Native Earth Performing Arts and The Centre for Indigenous Theatre in Toronto. At The Banff Centre, she was Program Manager for the Aboriginal Dance Program until 2003 and the coordinator of the Playwrights Colony for 15 years. Stage Management credits include: The Gala Performance for the opening of the Nunavut Territory in 1999; The Unnatural and Accidental Women; BONES: An Aboriginal Dance Opera and The Scrubbing Project. She was Program Manager for Indigenous Performance Initiatives and an instructor of Stagecraft at Indigenous Performance Studies at Trent University in Peterborough.
Spiderwoman Theater
Spiderwoman Theater is based in New York City and all of our theater productions, training and community-based outreach activities are rooted in an urban Indigenous sensibility. For the last thirty-eight years, our body of work has addressed critical cultural, social and political issues in the Indigenous and women's communities. We use storytelling, in both traditional and contemporary forms to bridge traditional cultural practice and contemporary Western theater. Our work is informed by traditional artistic expression, teaching and values and with our production and outreach activities, we create an environment that fosters cultural exchange between artists, the community and audience members.
Spiderwoman Theater takes its name from the creation goddess Spiderwoman who taught the people to weave.  We call the technique of creating our theatrical pieces, story weaving, where we imagine, write and perform personal and traditional stories that are intertwined with movement, text, sound, music and visual images. This weaving of stories is the foundation upon which we build Spiderwoman productions and creates a framework for our training and outreach activities.
Please follow and like us: