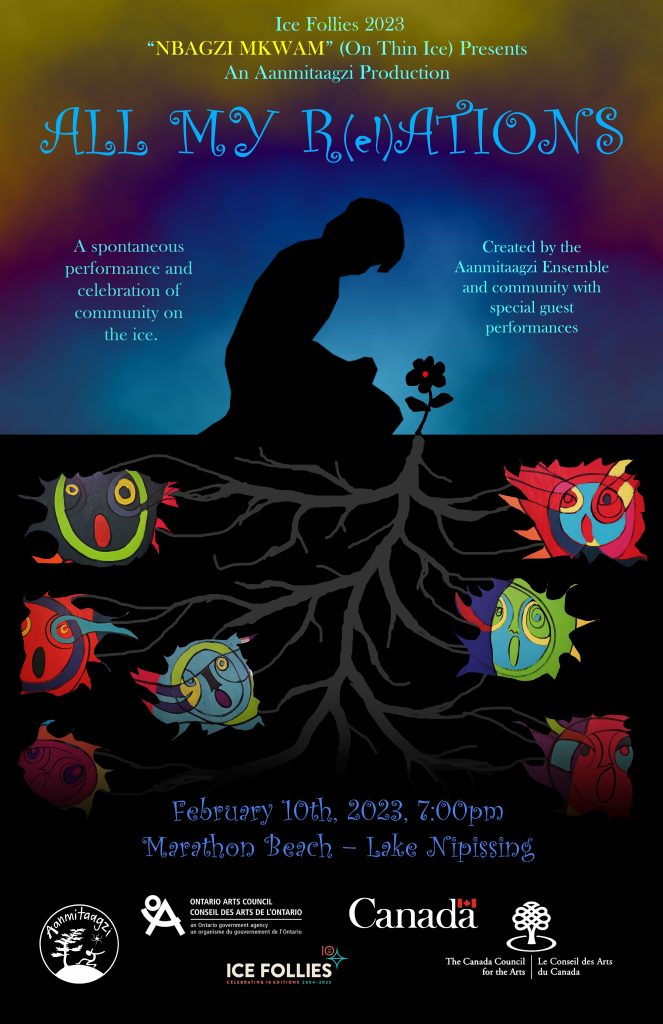 Aanmitaagzi is pleased to present ALL MY R(el)ATIONS, a large-scale multi-structure installation and performance on February 10, 2023 at 7 pm. The performance will take place as part of the Opening Night festivities of Ice Follies 2023. ALL MY R(el)ATIONS is part of our multi-year project, All My R(el)ations, a multi-disciplinary project of gathering, reflecting, and dreaming that explores the themes of relationality and resource capacity.
When developing this work we looked at stories around the abundance that was present when the first person arrived at this world, contemplating this abundance and our role within it. We explored stories of the rationing of our culture, language, traditional territory, and ourselves. The installation and performances were created collaboratively with our artists and community members through our ongoing weekly winter workshops series.
We are also excited to co-present Paper Canoe Projects' Prophecy Fog, created and performed by award winning theatre artist Jani Lauzon. The performance will take place over two nights at Big Medicine Studio on February 16 & 17 at 7 pm.
Ice Follies is a site-specific biennial festival that takes place on frozen Lake Nipissing (Nbisiing) near Shabogesic Beach (Shaabgiizhig Jiigbiik). The 2023 theme "Thin Ice" (Nbagzi Mkwam) looks at our shifting landscapes and communities, including our changing relationships with our environment and each other. This is Ice Follies' 10th Edition, and they are celebrating this year with free performances, large-scale art installations, community engaged artworks and activities, and a curated look-back at the history of this one-of-a-kind festival.
For more information, please visit www.icefollies.ca or contact Aanmitaagzi at aanmitaagzi@gmail.com or (705) 474-2227.
*Note: Shabogesic Beach was formerly known as Marathon Beach.