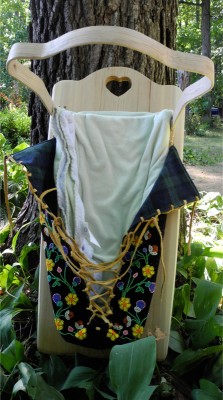 Aanmitaagzi is hosting a Tikinagan (Cradleboard) Making Workshop with Dan and Eva Couchie
When
October 29th and 30th, 8:30 am to 4:30 pm daily.
Optional evening, Monday October 29th from 7:00 to 9:00 p.m.
Where
Big Medicine Studio,
161 Couchie Memorial Drive,
Nipissing First Nation
Cost: $200 per person includes material cost of black ash hoop and cedar backboard
Each participant should bring:
• 1/2 meter of velvet
• 1/2 meter of flannel backing
• 1 1/2 meters of ribbon or lace to decorate the bag with.
If possible, please bring your own sewing machine and a manual or electric planer and drill. Bring your own lunch. Limited spaces available. Register early to avoid disappointment!
For more information and to register, please call Penny at 705-474-2227.
Aanmitaagzi is generously supported by:

161 Couchie memorial Drive, North Bay, Tel: 705 474-2227
www.aanmitaagzi.net
Please follow and like us: